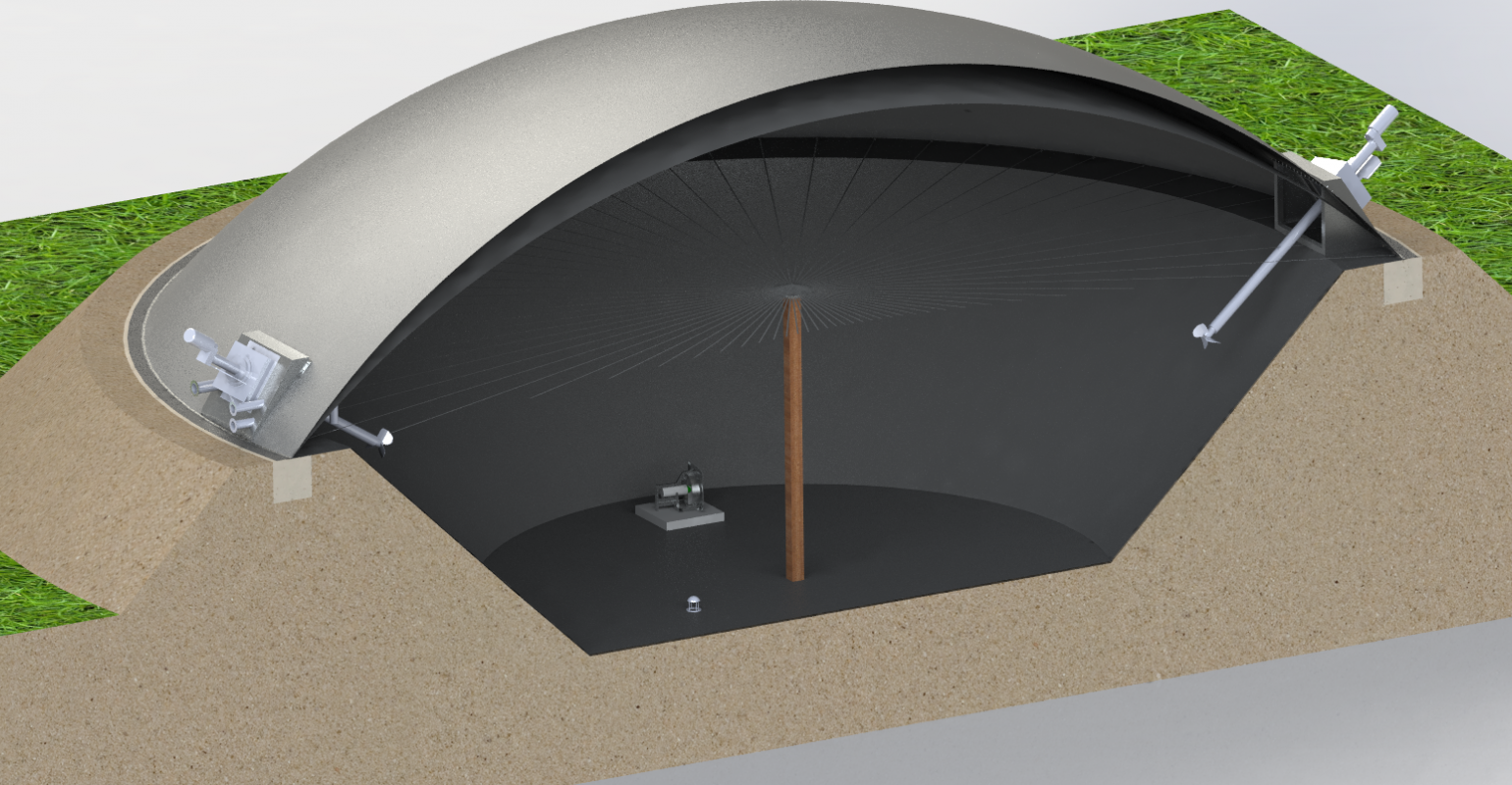 The Flexfermenter double membraned combined biogas digester and gas store
Combining the best features of the Wiefferink Air Blown Cover and the Wiefferink Combibag to create a second generation low capital cost high quality primary or secondary anaerobic digester to make return on investment and payback periods more attractive in the world where RHI and Feed In Tariffs are at a non sustaining low for traditional biogas plants.
Wiefferink are ever evolving to create the best quality product for their customers.
The first one was built in the winter of 2018 in the Midlands in the United Kingdom. If you would like a prospective quote, a site visit to view the Flexfermenter or a chat please get in contact with us at Farmergy.
Features of the Flexfermenter
The inner and outer membranes are installed on a concrete ring (construction responsibility of the customer) that surrounds the lagoon at ground level by means of stainless steel strips and bolts
The Air Blown cover ventilator(s) are placed at ground level, with the outer membrane inflated at a pressure of about +2 mbar to withstand weather influences
The inner membrane is designed smaller than the outer membrane so that air can flow between the two membranes and keep the outer membrane taught
Single wooden column with approx. 1 meter length more than the height of the concrete ring will be installed on the base of the lagoon on a stainless steel plate at the bottom of the lagoon
From the top of this centre column straps and a desulphurization net will be mounted to the concrete ring in order to support the under membrane in case of complete or partial loss of gas pressure
Wiefferink's flexible foil is made out of a special bi-axial composite membrane (polyester webbing with two-sided pvc-coating) suitable for biobased materials
Mixers are available that are installed through the wall with maintainance boxes outside of the digestate and gas zone, no down time when a mixer needs attention, that in itself is a reason to buy if you've ever had to maintain or replace a submersed mixer. Submerged mixers are available as well if that meets your need.
Benefits of the Flexfermenter
Much lower captial cost compared to concrete or steel digester silos as the supporting walls are the dug out earth works
The Air Blown cover is always inflated no matter the amount in the gas store meaning no wind or weather drag at periods of low gas yield
Low rise aspect, as the digester is sunken into the earth the Flexfermenter is much less visable than traditional digesters, great for sensitive planning areas
Quick to construct and deploy, get making that biogas quicker
Make best use of higher value tariffs, if you need more digestion and gas storage capacity to make the best use of a previously generous tariff
Easy to transport and export as they are compact when folded for transport
Low carbon, there is minimal  concrete used in the construction (only the circular fixing ring on the gound) so no relays of lorries to co-ordinate as per concrete above ground tower silos.
The circular design provides excellent mixing fluid dynamics and enables higher gas pressures than a square or rectangular construction
Wiefferink have a range of foils (the flexible membrane materials) for different climatic and solar conditions around the world, every situation and build is unique for our clients needs
And finally, they look the business, a bit of kit to be really proud of