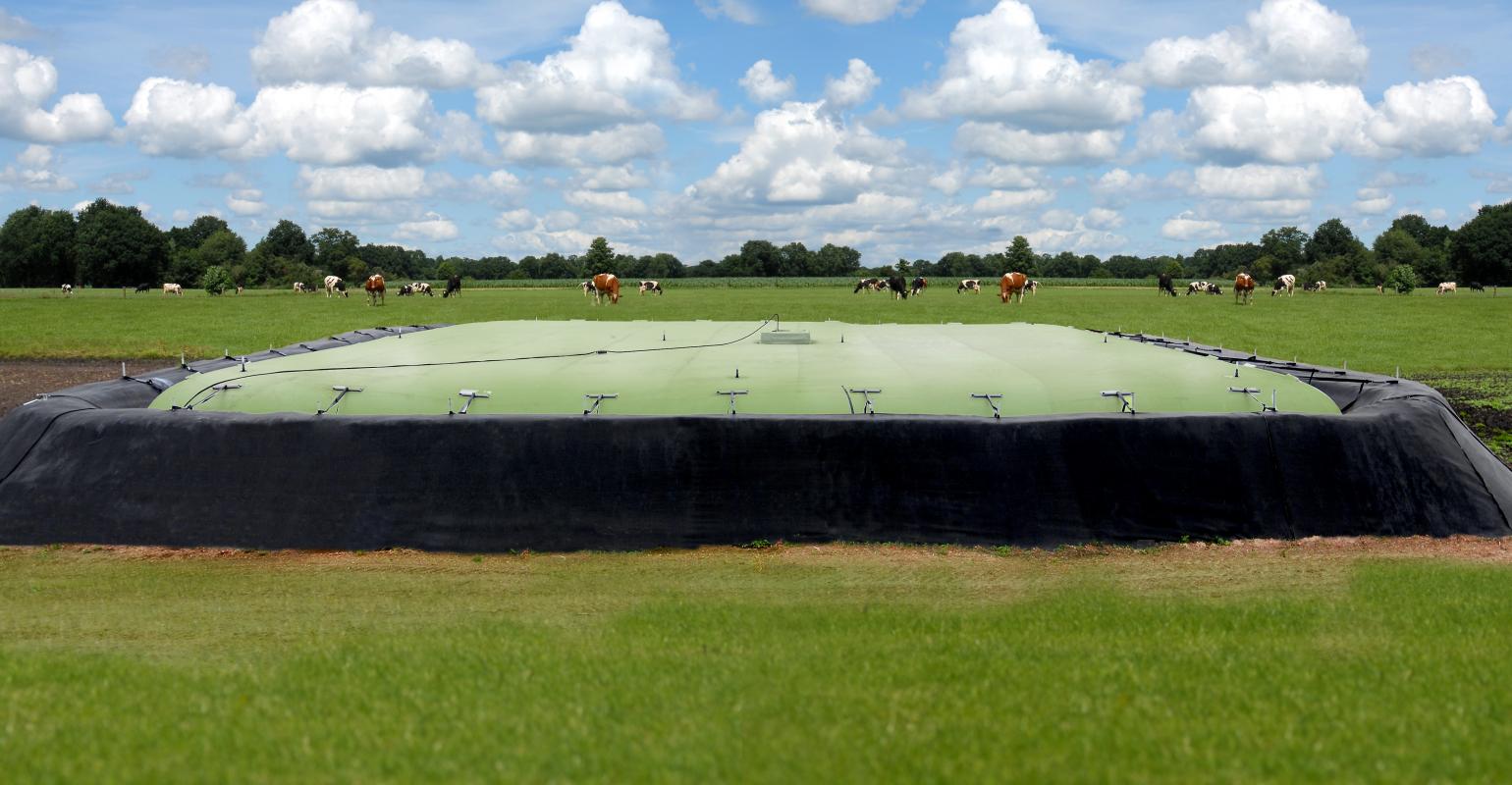 The Ecobag reduces ammonia emissions and holds them in the slurry as ammonium, which is readily available for uptake by plants. Ammonia is agriculture and farming's most harmful and proliferant air pollutant, it makes up 88% of the UK's total ammonia emmisions. The Ecobag is THE environmentally friendly storage system for manure, biogas digestate and other liquid waste flows.
The Ecobag is a flexible storage for up to 500m3 to 15,000m3. It can be used, for example, as a storage option when spreading manure is not permitted, or as a buffer for a biogas installation.
The Ecobag is a low-cost investment with fast installation and a landscape-friendly appearance.
In 2016 we've created the Mega-Ecobag, a twin construction which was the worlds largest Ecobag - the size of half a football pitch, now that's a LOT of storage.
- REDUCE AMMONIA EMMISSIONS OF STORAGE BY UP TO 100% BY STORING IN AN ECOBAG
- MIXERS AND AGITATORS INCLUDED TO KEEPS SOLIDS IN SUSPENSION
- ACCESS HATCHES INCLUDED FOR WHEN ACCESS IS REQUIRED
- LOW ODOUR VENTING, BE GOOD NEIGHBOURS, KEEP YOUR FRAMS ODOURS DOWN
- LARGE, SEMI-PERMANENT STORAGE THAT CAN BE INSTALLED QUICKLY
- SIMPLE PERMIT PROCESS; SOMETIMES NOTIFICATION IS SUFFICIENT
- LANDSCAPE-FRIENDLY DUE TO LOW PROFILE AND GREEN COLOUR
- LOW INVESTMENT COSTS - 5-YEAR WARRANTY AND USAGE LIFESPAN OF 10 TO 15 YEARS
- NO HIGH DECONTAMINATION COSTS AT END-OF-LIFE
Please get in contact for more details, site visit and quotation.