Pressurised Water Scrubber
This video shows how the GAStanco system works
Click the GAStanco logo to visit their website for more techs and specs and information about the company
INSTRUMENTATION AND CONTROL SYSTEM
GAStanco optimise their instrumentation and control system to suit your project specifications. The system was created by experts from the production lines of Continental Automotive Systems and Federal-Mogul Friction Products.
The technology of the fully automated system enables:-
-  Protected remote visualization via internet network
-  Protected remote access from your PC/smart phone via internet network with the opportunity to edit user parameters
-  Protected remote service via internet network
SCRUBBING AND ABSORPTION
The GAStanco scrubbing absorption column is next-generation. The engineers have designed and created a multilevel water fog which use the column's reaction volume more effectively when removing CO2 from the raw biogas.
-  As with any biomethane pressurized water scrubber, this unit is highly tolerant to variable H2S and other microelement concentrations in the inlet biogas.
-  Regardless, over time there is ALWAYS a risk of elementary sulphur sedimentation or more rapid process water exchange.
-  We ALWAYS integrate our biogas pre-treatment unit to ensure there is no H2Sat the biogas compressor inlet.
-  Through this we minimize the volume of process water and can recycle it in our 3 columns.
-  We manufacture in accordance with the Slovak Technical Inspection's strictly issued authorisations for specified technical gas equipment.
- CO2 is removed via ordinary water (which we recycle in the process).No chemicals, heat or extreme energetic demands (for operating pressure) are required.
BIOGAS COMPRESSOR & PROCESS WATER PUMP
As the biogas compressor/process water circulating pump represents the system's HEART and, like a heart, is constantly at work, we select only from world-famous manufacturers who offer top quality and reliability.
To optimise production costs and provide keen sales prices, the columns and other works are created in Slovakia.
We can scale to a huge variety of sizes; whatever meets your project needs.
The system can also be delivered along with a CNG unit (compression, storage, fueling unit with a payment terminal) or a unit for injection into the natural gas grid. In both cases we offer a turnkey solution or cross sequence + turnkey warranty
Annual service contracts are low priced to ensure peace of mind.
PRESSURISED WATER SCRUBBING
The GAStanco system for upgrading biogas to biomethane is based on the pressurized water scrubber principle and consists of: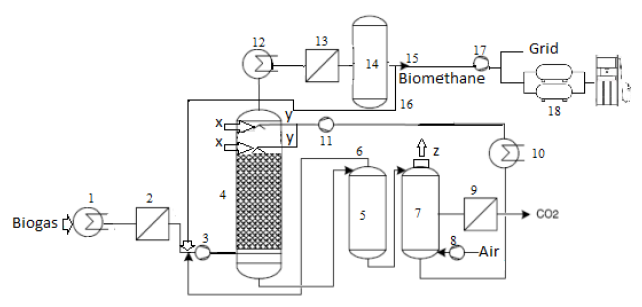 -  Pre-treatment of biogas before entering the scrubber (even during dropout the scrubber is fully functional)
-  Compressor/s for biogas compression
-  Absorption column for removing the CO2 generation with multilevel water fog
-  Second stage separation column to extract the residual water bound methane
-  Desorption column for removing CO2 from the process water (an available option includes a unit for thermal utilisation before releasing into atmosphere)
-  Cooling unit: water/biogas/biomethane
-  Circulation pump for recycling the process water
-  Biomethane drying
-  Instrumentation & control: switch board with completely automatic plant process control including an interface for remote monitoring (internet)
-  Container divided into 2 sections: explosive area and other equipment
ABOUT GAStanco
The technical roots of GAStanco start in the era of Socialist Czechoslovakia where they honed their skills of making dependable, reliable, long-lasting products since there was no market economy driving the manufacturers to produce just for the warranty period. This is a built-in obsolescence free product, built to last and to be repaired NOT replaced.
This design philosophy is still with GAStanco in terms of how they approach the products for their clients, in fact it has taken many other companies the advent of the circular economy to bring these principals back into product design.
GAStanco was founded to bring the most up to date and robust biogas to biomethane upgrade plant to the market by integrating 21st century technological trends with 40 years of research, development and practical construction experience. GAStanco clients demand 100% compatibility with natural gas and they deliver.
-  When it comes to biogas upgrading, pressurized water scrubbers are the safest market solution in terms of variability tolerance to both biogas flow rate and inlet quality (as the process is not sensitive to dust particles, H­2S level fluctuation etc.). We take it a step further as our system features an integrated biogas pre-treatment system – a biogas compressor sucking clean biogas in – to boost the lifetime of the entire biomethane plant.
-  Currently, pressurized biogas water scrubbers carry a significant price premium. We at GAStanco Ltd. have made it our mission to change this for clients as our prices is tens of % lower than technically comparable producers with production based in the eastern part of the EU.
-  With GAStanco you can rest easy knowing you're getting top-quality pressurized biogas water scrubbers at a striking discount, lowering initial investment costs in projects to ensure they succeed more consistently.
-  Their research & development is tied into the 20 years of ongoing research into biogas/biomethane taking place in Nitra at the agricultural university's biogas plant. This site is the first (and currently the only) practical research biogas plant in the Slovak republic (plus was the 1st BGP build in Eastern Europe).
Copyright © 2019 GAStanco
SALES AND DISTRIBUTION AGENTS
Click the logos to enter the agents website, these companies are the exclusive sales agents, distributors and installers for the GAStanco biogas to biomethane upgrading PWS system in these territories. 
Farmergy Ltd = United Kingdom 
Dorset Biosolutions = Republic of Ireland
Brimex Energy = The United States of Mexico (website coming soon)